Polícia de Segurança Pública
Portuguese Public Security Police Force
Exist to Serv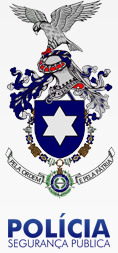 ESCOLA
PRÁTICA DE POLÍCIA
ESCOLA

Escola Prática de Polícia
Largo das Forças Armadas,
2350-754 Torres Novas
Tel. 249819660 - Fax. 249813851
E-mail - epp@psp.pt
©2009-Escola Prática de Polícia
Optimized for Internet Explorer at 1024 x 768



P
P
E
P
P

Escola Prática de Polícia - Largo das forças armadas, 2350-754 Torres Novas - Tel. 249819660 - Fax. 249813851 - E-mail -
epp@psp.pt
Tour
Torres Novas

With about 36000 inhabitants, and a total area of 280 km2, Torres Novas is one of the most important counties of the Santarém district, bordering with Tomar, Ourém, Santarém, Golegã, Alcanena, and Entroncamento, the main railway junction of the country. Motorways A1 and A23 (the former IP6) are the main motorways crossing it , and provide quick access to any part of the country and to neighbouring Spain.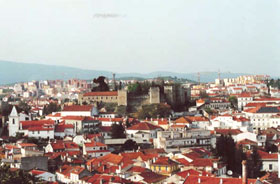 The castle of Torres Novas
Arabian fortress of the twelfth century, conquered by D. Afonso Henriques from the Moors. Later it was taken by the Muslims and was re-conquered definitively in the year 1190 by the son of D. Sancho I. True landmark of the city, the Castle of Torres Novas was classified as a National Monument by decree on the 16th of June, 1910.
A
The formation of the city dates back to the year 1190, when D. Sancho I attributed a charter to the village, since then existing. The county is now composed of 17 parishes: Alcorochel, Assentis, Brogueira, Chancelaria, Lapas, Meia Via, Olaia, Paço, Parceiros da Igreja, Pedrógão, Riachos, Ribeira Branca, Salvador, Santiago, Santa Maria, S. Pedro e Zibreira.

Present Day
History
Crest
The Police Training School is an institution dependent upon the National Directorate of the Public Security Police.

The Police Training School stands now where the old facilities of the Regiment Calvary nº 1 were in Torres Novas.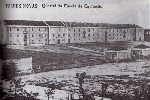 Portuguese version